Sub-16 Gloucester Tour 2019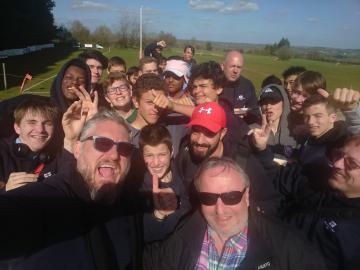 Sub-16 Gloucester Tour 2019
Click here to view images from the tour.
The sub-16 St Julian´s Rugby Club boys got to experience a real rugby community on their 2019 overseas tour. We visited the west country of England - famous for some legendary Rugby clubs like Gloucester, Bath, Bristol and Exeter.
This was different from other Rugby tours that the boys have been on because they toured a Rugby community as opposed to a big city.
On Friday night the boys played Cheltenham. A very strong club and big town in the area. Although we started well Cheltenham turned a lot of ball over and scored a few quick tries from their own 22. We fought back and eventually scored a few tries of our own. However the match ended in a 48-17 win for Cheltenham (tries for Tiago Periera, Lucas Mount and William Lowe). We played very well in attack and created numerous try-scoring opportunities. However our tackling and breakdown support let us down.
The boys were fortunate to have former Springbok Thinus Delport deliver a talk to them before the game on what Rugby is like in the west country. Thinus lives in the area, and inspired our boys about team work and playing for your friends and team mates.
Saturday was the day we went to watch the professionals as we took in Gloucester vs Wasps in the English Premiership. In the morning we went go-karting and after some horrendous driving from Martin Mendes, Alexander Fortes and Josh Steames we had to call the final race off in the middle for excessive crashing. We were running a tight schedule as we had to walk to the stadium to watch the game. This was another wonderful experience as we got to see an amazing game. We also got to hear the roar of ´the Shed´, as Gloucester beat Wasps 27-14.
I told the lads that if they were wise and patient there was a door the players would come out of a little while after the game. At that stage the boys were trying to get the phone numbers of some of the Gloucester girls junior players, so it took some persuasion to get them to redirect their focus. They were glad they did however, as within the next hour our players got to get photos with Danny Cipriani, Jaco Kriel, Billy Twevetrees, Elliot Daly, Nathan Hughes, Willie Le Roux and Brad Shields - all major international names.
The boys then went back to the hotel, however Alex Vieira and Leo Djavidnia decided to wait long into the darkness for their two heroes who were taking their time. The other lads gave up, but not these two warriors as Jake Polledri and Franco Mostert finally emerged.
Sunday was our final game and we went to a beautiful part of the countryside in Stow on the Wold. This game was tough but not as intense as our first game. It was more of an arm wrestle, but our boys prevailed and won 24-12 (tries scored by Lucas Mount, Leo Djavinia and two by William Lowe). William´s grandparents live close by, and had come to watch, so he put on a bit of a show for them.
Both clubs hosted us impeccably. We are forever in their debt. Thank you to the fathers who accompanied us on tour - Tim Vieira, Peter Lowe and Mark Stearnes. You were amazing! Thank you also to head coach Pedro Vital who prepared the boys to this point, and got them ready for this tour.
I will leave you with this quote that was up on the wall of the Stow Rugby changing room. "Your part of a team. Something bigger. When someone is successful, its good for the team as a whole. Everyone is in it together."
Lorne King