South Africa Legends visit St. Julian's ... Again!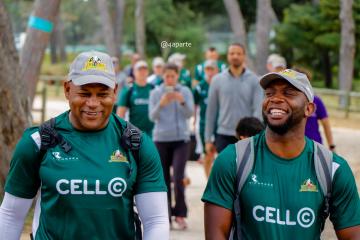 A second amazing visit from the S.A. Rugby Legends
On Friday 1st June we were once again honoured to receive a visit from the South Africa Rugby Legends tour party. Back in Portugal ahead of their game for the Mandela Legends Cup against the Portuguese Barbarians Legends, the 2018 squad was packed full of some of the most famous names in recent Springbok Rugby history, including a former captain of the national side and several World Cup winners.
For those familiar with the amazing story of South Africa's 1995 World Cup victory (or who saw the film Invictus!), there was particular excitement at the prospect of meeting the genuinely iconic Chester Williams, while those with shorter memories were just as enthused by the presence of Percy Montgomery and Butch James, who themselves lifted the Webb Ellis Trophy in 2007. To many of our younger players, and pupils for whom Rugby is still something of a mystery, this was at any rate an exciting opportunity to welcome an impressive herd of generally very large springbok sporting superstars into our school.
The visit to St. Julian's was especially memorable for the Guard of Honour of students that snaked from the Main Gate Arch, through the Primary School and down on to the fields, which enabled literally thousands of high fives, low fives and fist bumps to be exchanged, and also represented a fairly decent warm-up for the training clinic and Captain's Run that was to follow.
The clinic gave our younger players, and our friends from Escolinha de Rugby da Galiza, the chance to learn from some true masters of their sport, and also the perfect stage to do some fairly understandable showing-off. The generosity of our illustrious visitors extended still further though, as everything-that-could-possibly-be-written-on was used to bag autographs, before the Bokke got down to the serious business of preparing for their big game against the Barbarians.
The tour squad was accompanied by two Scottish internationals of recent vintage, Ally Hogg and Kelly Brown, as well as the legendary All Black centre duo of yesteryear, Frank Bunce and Walter Little. These "ringers" had been brought in to beef up the Barbarians team, but in the end it was to no avail, as the South Africans lifted the Mandela Legends Cup by prevailing 29 - 12 on the Saturday afternoon in Jamor.
We are very grateful to the School for helping lay on the Guard of Honour, to Bela Mendonça from PACT for organising the flags and the shosholoza theme song, to Margarida Almeida for building a table mountain of sandwiches, to Sérgio Rodrigues for his brilliant camerawork and especially to Tim Vieira and Lorne King for including St. Julian's on the tour itinerary and so facilitating the realisation of another minor miracle in Carcavelos.
View more of Sérgio Rodrigues' photos at: https://www.facebook.com/SergioVicente/posts/2479052175454038