Sub-14 Rome 6 Nations Tour 2018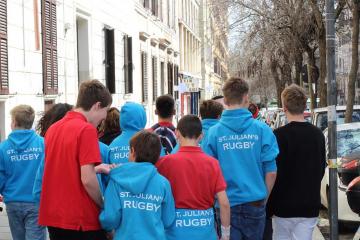 See pics and read tour report here.
Click here to view photos from the Rome 6 Nations Tour 2018
The Sub-14 Rugby players flew to Rome last Friday, following in the footsteps of seven previous teams of ours that have enjoyed the final weekend of the 6 Nations Championship in the ancient city. On arrival, the boys had plenty of time to enjoy the wonderful sights and still hoover down industrial quantities of pizza and ice cream. Saturday saw the now traditionalbmarch through the famous streets, accompanied on this occasion by increasing numbers of strange kilted clansmen as they closed in on the Stadio Olimpico for the showdown between the Scots and their Italian hosts - a very exciting game won in a nailbiting finish by the visitors. Coins were chucked into fountains, Spanish steps were scaled and more pizzas devoured before the players retired for the day ahead of their own assignment on the pitch at Frascati on the Sunday morning. Heavy overnight rain had turned the battle ground into something more approaching a swimming pool, as both teams belted out their respective national anthems, but it was the Heróis do Mar that better adapted to the peculiar aquatic habitat, eventually running away with an impressive 48 - 7 victory. Once again, Rugby Club Frascati proved to be superbly generous and gracious hosts during the terzo tempo and, before shirts were swapped and farewells bid, renewed their annual promise to one day embark on their own Iberian campaign. We certainly await the opportunity to return the hospitality with much anticipation, and have, at any rate, begun the countdown to the Rome 6 Nations Tour 2019.