Sub-8/10/12 Conquista Madrid Tour 2018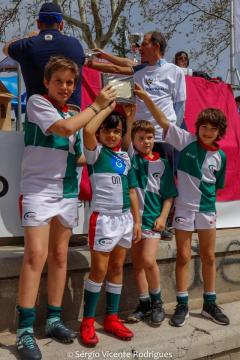 Tour report and images from the Madrid Tour.
Our little warriors, having received their parental allocations of hugs, kisses and best wishes, left as scheduled for their very, very long coach journey to the capital of our neighbour Spain. The schedule had indicated a departure time of 10h00 on Friday 20th April and, with military precision, at this hour the wheels on the bus started to go round and round, as they were destined to do, all day long. The journey could not have gone better, with games, Rugby Club sing-songs, lunch in Elvas and an arrival in time for dinner in Madrid. The best was left to last, with a reception committee of our biggest fans the travelling parents greeting us with a special rendition of "We believe in you"! Tummies full and rooms allocated, off we went to sleep. Or not … for who could possibly sleep while consumed with such excitement! Step forward our amazing Tour staff who moved calmly from room to room explaining to the players that they needed to get a good night's sleep in order to be on top form for the challenges that lay ahead. Such was their commitment to the cause, that our warriors heeded the advice and nodded off early enough to be able to dream full dreams of achieving Rugby magnificence on the morrow.
Sometimes dreams come true …
Breakfast under our belts, we hopped expectantly onto the bus for the short trip to the University sports ground where the tournament would be held. First up were the Sub-12 who threw everything into their opening battle, cheered on by an impressive crowd of younger club-mates, parents and staff. Madrid was beginning to realise that the invasion was already underway and that nobody was going to be able to stop it. After three Sub-12 games, whose results did great honour to the team, it was over to the Sub-8s and Sub-10s. The Sub-10s, with two teams, played 6 games (3 per team) and managed to win all their games with a wonderful exhibition of skill and commitment. The Sub-8 were also incredible winning 3 out of their 4 games and impressing everyone with their warrior spirit.
Sporting dispatches from day one were written in full- justified ringing superlatives! All mentioned the collective attitude, commitment, will to win and respect.
Later that evening over 90 of us sat down to our Tour Dinner - in itself a testament to those all those who believed in and contributed to the St. Julian's Rugby Club project. During the dinner team coaches and managers offered their thoughts and their thanks, before awarding the Player of the Tour awards for their respective age-groups. Diogo Frade and Diego Rodriguez jointly picked up the Sub-12 award for their role in encouraging their team-mates. The Sub-10 award was presented to the entire "Julian's" team (mainly consisting of 1st year Sub-10 players) for their incredible performances based on desire and valour. As for our tiniest warriors, again the whole team won the award, since they had all performed incredibly well, without exception.
We left the hotel nice and early on Sunday morning for the 2nd day of the tournament. As with the day before, once again we were fantastic. The Sub-12 has two very tough assignments and managed to win one and remain competitive throughout the other against a very well organised Spanish team. In the Sub-10s, the "Saints" team registered two more victories, while the "Julian's" won one out of their two games. Once again the braveheart Sub-8s played really well and chalked up two more convincing wins. In the final Tournament classifications, the Sub-12s managed a highly creditable 5th place, the Sub-10 Saints won their tournament with the Sub-10 Julians in 3rd place, while the Sub-8s also ended up as tournament winner. After a lunch offered by the host club, we left directly for Carcavelos, where we were received by our wonderful St. Julian's R.C. parents in full party mode, capping an exhausting but hugely successful and satisfying Spanish adventure.
St. Julian´s R.C. would like to thank our players for their excellent behaviour and performance throughout the tour and also all of the parents without whom none of this would have been possible.
João Marvão