Congratulations to Sub-14 Squad!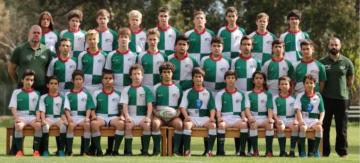 National A League Runners-up
.
.
.
.
.
Congratulations to our sub-14 squad for doing so well in the National 13-a-side competition, in which they finished as runners-up with an impressive return of played 14 games, won 11, drew 2 and lost 1.
This is a fantastic record in a league that includes all the top clubs in the country, and indeed the highest classification that any of our teams have achieved since our foundataion in 2006.
In the final round of games in Coimbra, the team secured winds against Técnico and Académica to set up a championship decider against a very strong Direito side that, in the end, proved to be a bridge too far.
It was certainly an exciting end to an extraordinary three months of Rugby for our players in this age-group, which reflect superbly well not only on the talent, commitment and spirit found within the sub-14 squad, but also on the skill and passion of the sub-14 coaching team of Pedro Vital and Lorne King.
Many thanks to all the support that has been provided by parents throughout the season and especially to those who travelled to Coimbra to support the team in their final round and to Margarida Almeida for laying on the team-building stay at Hotel Aldeia de Capuchos.
Thanks also to Rui Ténorio for these photos from a memorable day in Coimbra: https://flic.kr/s/aHsmhKRpSQ
Please note that Lorne King's body double Craig Ferris appears in the photograph that accompanies this report.