Sub-16 England Tour 2017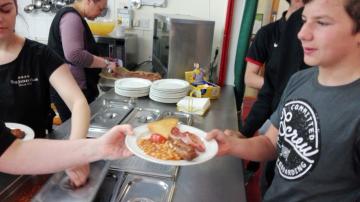 Read Tom Rains' tour report here
.
.
.
.
.
.
.
Sub 16 West Country Tour Report by Tom Rains
Click her to view Tour images: https://flic.kr/s/aHskPL6Uc2
During the very early hours of Friday, 17th February, 20 eager sub-16 rugby players from St. Julian's Rugby Club assembled at Lisbon's Terminal 2. What awaited them was a three day tour to England's West Country, considered by many (mostly from the West Country) to be the hotbed of the country's rugby.
After a smooth journey to Cheltenham, our base for the three days, the tour party (now with Ben Hubert in tow), set off for "The Gloucester Experience". We were met at the club's ground, Kingsholm, by one of the community officers, a huge Samoan by the name of Jack. After being shown the home changing room (already set up for the evening game), a walk through the media centre and a tour of the pitch, including the famous 'Shed', and a coaching session at a local sports centre, the boys were invited for a Q&A session with a couple of the Gloucester players. They asked some sensible questions, relating to playing positions, fitness levels etc. It was left to a sub-8 player from Lydney Rugby Club to ask which of the players did the smelliest farts, much to the embarrassment of his poor mother.
To help whip up the home crowd into a frenzy ahead of the clash with Saracens, we were invited to do a couple of pre-match laps of the pitch, waving 'Gloucester' flags, and finally forming a guard of honour on the pitch to lead both the home and away players into battle.
If our players were unsure of who to support for the Premiership clash, the afternoon's experience had cemented their loyalty to the home side, with all but one or two brave/foolhardy individuals opting to cheer for Saracens. The game itself did not disappoint. We were fortunate to witness a real heavyweight battle between two closely matched teams, both intent on playing expansive, free-flowing rugby. Upon the final whistle, 12,000 home supporters erupted into chants of 'Glawster, Glawster'.
Saturday morning started with a hearty full English breakfast followed by the customary Kangaroo Court. In the docks were Manuel Duque and Gonçalo Mendes. Manuel was in the dock for managing to upset both Portuguese and English members of the public on day 1, Gonçalo for moaning about having to walk into town, some 15 minutes in total. Judge Gonçalves was swift in his decision, sentencing the former to a morning of pink pyjama wearing.
The first of our two games was now fast approaching. An hour's coach journey took us to West Oxfordshire, home to Witney RFC. We were warmly received, albeit by a slightly bemused home contingent, who couldn't quite get their heads around why a bunch of Portuguese boys were there to play rugby. David and Goliath sprang to mind on seeing both sets of players warming up alongside each other. Despite big physical differences, the home side was unable to find any chinks in a solid St. Julian's defence in the first half. Had it not been for some pedantic refereeing, St. Julian's may have even gone into the interval leading the game. The visitors finally succumbed 28-0, but showed dogged determination until the final whistle. They played some of their best rugby to date, and the team could feel extremely proud of the way they performed on the pitch. The game was played in a good spirit, but young Manuel Duque did his best to nullify the 1386 Aliança Luso-Britânica, by kicking his invisible handbag at the opposition's captain.
After the game, man-of-the-match Tomás Severino was pitted against his counterpart from Witney in a race to the bottom. The challenge was to remove a submerged Mars Bar from a pint of orange squash, down the drink as quickly as possible, followed by the Mars Bar. Clearly not a challenge for diabetics. We may have lost the rugby, but Tomás ensured we could walk away from Witney with our heads held high.
It was then time to head for Gloucester, where an afternoon of Go-Karting and Laser Tag awaited. Whilst the circuit didn't quite resemble Monaco nor San Marino, it didn't stop all twenty players (bar one) thinking they were the next Lewis Hamilton. Some audacious (and highly illegal) overtaking/undertaking was witnessed on every single lap. Red lights would signify an incident on the track, requiring drivers to stop. There was a definite correlation between these lights coming on and António Lavradio being behind the wheel of a kart. António was our very own Mr Magoo, creating a scene of destruction, collisions and chaos in his wake. Had it not been for a technical issue with the recording devices, it would have been a one, two, three on the podium for Mr Rains, Mr Gonçalves and Mr B. Hubert, but as in life, there is no justice in the cut-throat world of junior, indoor go-karting! Two games of Laser Tag followed. This was an opportunity to blast anyone and anything that moved in the dimly lit spaces of a converted warehouse. Members of the public looked on with curiosity, as a call of 'stranded tortoise' was called as the players were taking off their equipment.
Having battled both on four wheels and two legs, 23 weary and hungry bodies gorged on pizza, before heading back to Cheltenham. There would just be time for a short Kangaroo Court. This time in the docks was António Lavradio, there for his impersonation of Tow Mater from the film Cars, and repeat offender Manuel Duque, for his earlier outburst of emotion. António was represented by Vasco, who articulated a spirited and eloquent defence, based on the notion of António's glasses being dirty and his feet too big for the pedals. This would prove to all be in vain, with the jury not believing a word of it, voting overwhelmingly 13-3 in favour of Antonio to be the next recipient of the colourful nightwear.
Just in case we were having withdrawals from sausage and beans, Sunday morning's breakfast consisted of more healthy fried offerings. With the rooms cleared and fumigated, it was on the bus and a short journey to the grounds of St. Edward's Preparatory School on the outskirts of Cheltenham. Our players were perhaps a little naive in judging a book by it's cover. Whilst the opposition from Old Patsonian's may have been somewhat smaller than the previous day, they had been well coached by former Gloucester, Bath and England lock Rod Fiddler. A sloppy first half, strewn with uncharacteristic errors and lateral running, meant it was always going to be an uphill battle (literally). Once again, the boys showed a wonderful collective spirit, scoring two second half tries to match the opposition's second brace. It was a double first for António Barreto, who on his first tour scored his first try for the Sub-16s. His excitement was evident for all to see. Whilst the team suffered a second defeat (28-12), they certainly battled for the full 60 minutes, always looking to score, and continuing to tackle well. Francisco Terrones Aragon was awarded man-of-the-match, for an outstanding performance on the flank. Not only is he new to the game, he is very raw in this position. However, he showed incredible bravery in defence, and always made ground with ball in hand. Like Tomás the previous day, he too was rewarded with a tasty beverage. For him, a pint of coca-cola mixed with orange juice and a little tabasco sauce, topped with a crunchy layer of crisps proved too much. However, he did manage to keep the contents inside, unlike his opposite number who said hello again to the drink immediately after the race. In the bar, there was a final 'stranded tortoise' beautifully executed by all bar Gijs de pooter. His claims of not having room to do it were immediately rejected, and the pyjamas would be his for the afternoon.
After a brief visit to Oxford it was onwards to Luton airport. Here there was time for a quick change of the pink nightwear. There is no need to explain in detail why our captain António Miranda finished the tour wearing them, other than to say he was supposedly 'detained' and that was why he was 15 minutes late for one of the bus journeys.
With the tour coming to an end, there was time for one last surprise. On reaching passport control at Lisbon airport, it dawned on Gonzalo Horta that it wasn't a good idea to leave your passport in your luggage that had gone into the hold of the plane. Such gross acts of negligence can only mean that the first post-tour training session is likely to involve a gangly Spaniard running around in the pink pyjamas.
On behalf of myself and Sr "Pablo" Gonçalves, I would also like to offer enormous thanks to Ben Hubert, who not only kept his brother in check, but helped look after all of us at some stage over the three days.
I want to end the report by sharing with you a couple of emails we received, commenting on the players behaviour. I think you will agree that they did themselves and the club proud.
Dear Vicky,
I hope St Julian's have returned home safely and also that they enjoyed their tour. It was a pleasure to host them last Saturday. They played some excellent rugby and were a great credit to the rugby community.
Thank you all for introducing St Julian's to Witney.
If the opportunity ever arises again to host St Julian's at Witney we would be more than happy to do so
Thanks again.
Jeremy (Witney RFC under 16 coach)
Dear Sirs,
I would like to congratulate St. Julian's touring rugby team (and staff!) on their exceptional behaviour. As a housemaster holidaying in Lisbon over half term my family were on the same flight to the UK as your team. In spite of being a large body of young men their behaviour on the flight and in the airport brought credit to St. Julian's. I just thought this was worthy of mention. I hope the boys enjoy their tour of England.
Kind regards,
Stephen Ottewell (Housemaster at Downside School)