Springbok Legends visit St. Julian's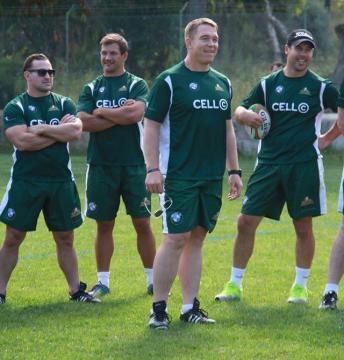 An extraordinary and unforgettable morning spent in the company of some of the all-time greats of South African Rugby.
Click here to see some images from the day.
Click here for Michael Hultén's images from the day
Visit of the South African "Springbok Legends" Touring Team
On Friday 3rd June we were honoured to receive a visit from the South African Springbok Legends team on the second day of their five day tour to Portugal. As their moniker suggests, the touring party was packed with some of the all-time greats of South African rugby, including several members of the 1995 and 2007 World Cup-winning squads and a former captain of the Springboks in John Smit. On arrival, the tourists were given a guard of honour by S.J.S. students and parents, as well as players from St. Julian's Rugby Club and our sister club, Escolinha de Rugby da Galiza. A gentle stroll in glorious sunshine transported our illustrious guests down to the grass pitch, where, to strains of shosholoza emanating from the sound system, former Springbok coach Ian McIntosh coordinated the mini-coaching sessions given by each the Legends to small groups of younger players from both clubs.
For many of those present, young and old, it was a pinch-me-I-must-be-dreaming couple of hours that were spent in the gracious and generous company of the Springbok Legends. Rugby prides itself on being a global family and depends everywhere on former players giving back to the game what they received in their playing days, but it was nevertheless tremendously heartening to witness the way in which these tough old Legends gave so freely of themselves for the evident enjoyment and benefit of their star-struck charges. At the conclusion of the training session, the parental paparazzi, autograph-hunters and sundry selfie-stickers swooped down for a veritable field day of their own, before the stage was set for the South Africans to do their own preparation for the match the following day against Os Antigos Lobos de Portugal, a game which they ended up winning by 70 points to 12.
Many thanks to Tim Vieira (father of Alex, Titus and Elena), who set the wheels of this historic event in motion, and to S.J.R.C. coach Lorne King, for his indefatigable efforts in organising the tour and for pulling off the barely believable feat of bringing the Springbok Legends to St. Julian's School.
Simon Mount