Sub-8/10/12 Treviso Tour 2016 - Report and Images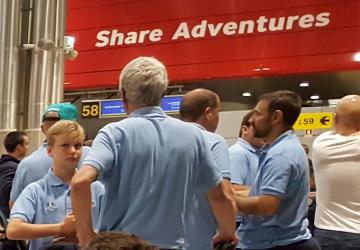 Read the tour report and view images from the tour here.
Sub-8/10/12 Treviso Tour 2016 Report + one-stop shop for images from the tour:
Images:
https://www.flickr.com/…/87923651@N07/sets/72157668187690852
https://flic.kr/s/aHskA4RmLh
https://www.dropbox.com/l/sh/edP5pUbyIecep8wUpvDWMq
https://www.flickr.com/…/33009054@N…/sets/72157666023627413/
Tour Report:
The sub-8/10/12 Treviso Tour 2016 over the second weekend in May was another hugely enjoyable and character-building journey into the maelstrom that is the heart of Italian junior Rugby. This was our sixth visit to the mega-festival and our most successful yet. We took 43 players to represent us in the three age-groups, and they all did us proud with some storming performances on the pitch and generally impeccable behaviour off it.
With 128 teams in each age-group and ten games to play over the two days, this tournament is a massive physical and mental challenge to our boys, especially since many of the opposition teams contain several outsized players, no doubt raised on a rich pasta-based diet, and all fanatically supported by the entire spectrum of the Italian Rugby fraternity. None of our teams were intimidated, however, and consistently punched well above our weight, winning more games than they lost and finishing each of the three competitions in the top third of the classifications. The sub-8 team went through the opening day unbeaten, a first for one of our teams, while the sub-10s defied all expectations by storming to three straight wins on the Saturday morning and finishing with the highest ranking of our squads. The sub-12s, whose chances had perhaps been hyped up the most, played some great Rugby but didn't quite take their chances when it mattered in their tightest games.
If the Trofeo Topolino is a fiery forging furnace for our younger players, it is also always something of an emotional roller-coaster for the coaching staff and accompanying relatives. The coaches, several of whom had lost their voice by Sunday lunchtime, did a fantastic job of keeping their players together and getting them up for each of their games, while the many parents, grandparents and siblings also gave their all from the touchline and appeared to live every moment most intensely.
Some of our Treviso parents also took on the extra responsibility of organising the many kind donations of food and drink in our hospitality tents - facilitating many cross-cultural exchanges with the local cognoscenti and our own players' in-tournament sustenance. Our three very special "Treviso matrons" played a vitally important behind-the-scenes role in ensuring that the players were well cared for in the hotel, and many thanks are also due to Bernardo Mendes at Wide Travel and Samy Djavidnia for ensuring that the logistical aspects of the tour ran very smoothly.
Those of our younger players who were fortunate enough to be selected to participate in the Treviso Tour 2016 can certainly count themselves as very privileged indeed. Not only is the Tour a completely unique experience, it is also invariably both great fun and tremendously challenging, so that, although they may not have realised it at the time, the boys will all have grown just a fraction by bonding with their teammates and together facing up to these formidable demands. As we come to the end of the Rugby season, I'm quite sure that those young enough to look forward to being invited on future Treviso Tours will already be counting the days. The rest of us are just looking forward to a good rest!
SM