Sub-16 London Tour 2016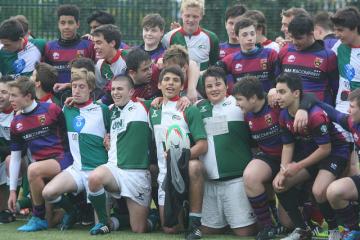 Read the tour report and see images from the tour here
Click here to view images from the Sub-16 London Tour 2016
Sub-16 London Rugby Tour 2016
by Tom Rains
The twenty one sub-16s selected to tour London last weekend enjoyed three games of rugby in as many days. Two tour games either side of a Premiership clash between club giants Saracens and Harlequins made for an appetising, oval-shaped sandwich.
The tour started with the usual game of 'who can lose their boarding pass/mobile phone/passport/bag/all of the above first?' This year's winner, with an impressive time of three minutes, was Xavier Campos Pereira, who managed to become estranged from his boarding pass whilst passing through the security check. One could easily be mistaken for thinking this would secure the wearing of the coveted pink pyjamas but nobody had factored in the enigma that is João Machado. João left his phone on not one but two consecutive modes of transport. It was going to be a tough decision for Judge Gonçalves and the jury of the Kangaroo Court.
Once settled in to the hostel it was time for the party to explore Kensington High Street. There was only one thing on the boys minds - food. London is renowned for its incredible diversity of restaurants. So where was it that all 21 boys decided to go for lunch? Yep, Nandos!
With bellies temporarily full, attention swiftly turned to to the first of our two games, a clash with Maidenhead RFC in the early evening. Thankfully the persistent rain that had fallen all day lifted on arrival at the ground and, combined with a state-of-the-art G4 synthetic pitch, conditions were near-perfect for a game of rugby. After an intensive warm-up and a few words of wisdom from the Head Coach the boys were ready to go. St. Julian's started in a lively manner. The opposition were put under immediate pressure from the kick-off. A crunching tackle from the tough yet suave Manuel Carneiro resulted in a knock-on. The ensuing scrum provided the perfect platform to launch a short range offensive, with Aleksa Veljkovic darting over for the first of 5 tries for the tourists, who never looked like relinquishing this lead and finished victorious by 31 to 15. Every player was given a run-out, with all contributing to what was an encouraging display. The boys' performance, whilst a little ragged in places, garnered praise from the opposition's coaches, players and supporters. Henri Maes was voted man-of-the-match by his coaches - a choice that was endorsed by his peers. He worked tirelessly all game, in attack and particularly defence, making tackle after tackle. The only slight downside was a minor injury picked up by Zé Novais, but this was more than compensated for by his bizarre and unfathomable revelation that his injury had been provoked by the width of Bernardo Gomes's bottom. Special thanks must go to the Hubert Clan who rocked up in force to cheer on St. Julian's. They made a lot of noise which was fully appreciated by the victors.
Part of the post-match hospitality pitted each team's captain and man-of-the-match (as chosen by the opposition) to a so-called Boat Race. This involves downing (drinking) a pint (0.57 litres) in the quickest time possible. As our boys are committed athletes the customary beer was substituted with a tangy fruit alternative. It is with great regret, however, that I have to inform you that Tomás Siva and João Machado were soundly beaten by their thirsty adversaries. The Maidenhead team felt a rendition of their club song would enrich the Portuguese visitors' cultural understanding. In doing so, some choice words and terms, most of which were related to parts of the anatomy from the nether regions, and what can be done with them, were bestowed upon them.
The first business to attend to on the Saturday morning was passing judgement on those individuals guilty of heinous crimes the day before. Tiago van Leuven. was a late addition, for both throwing an apple core from a third floor window but also, and more importantly, missing his target. Such inaccuracy in passing rarely goes unnoticed. Despite brave efforts from their defence lawyers, all three of those in the dock were found guilty by the jury and so were at the mercy of the Right Honourable Gonçalves. He was swift to make his decision and consign Mr van Leuven to a day's hard-wearing.
The rest of the morning was spent at leisure wandering through Portobello Market and Hyde Park. It was during this sight-seeing that the boys were introduced to a very important rule. Should the words 'funky chicken' be bellowed out by either Mr Rains or Mr Gonçalves, the boys had to perform an immediate rendition of the most deranged, noisy chicken known to mankind. An early call in Notting Hill suggested they had the hang of it. By midday the tour party was heading to Wembley Stadium. Along with over 80,000 fans the group witnessed a tense encounter between Premiership leaders Saracens and play-off hopefuls Harlequins, with the latter coming off second best. A second round of funky chicken caught the boys off guard but certainly entertained the crowd. Aside from the game, one highlight was hearing a small child scream at the top of his voice,"Urgh, look at that boy wearing pink" and then breaking out in uncontrollable laughter. Poor Tiago.
Next stop was central London. With a couple of hours at their disposal, the players took to the streets of the West End. Some new discoveries were made, such as that Mexican food is spicy, streets in the West End are busy and that there is nowhere to eat. Severo Portela played himself into contention for the next round of pyjama-wearing by leaving all his worldly possessions in a packed restaurant. On discovery of his faux pas he quickly legged it back - one has to say faster than he has ever been seen moving on the training field. Back at the hostel it was time for the boys to turn in. As they drifted from the lounge back to their dorms, Xavier Campos Pereira had once again played himself into contention for the pale red nightwear by also abandoning his rucksack.
Sunday's court session was swift and decisive. Both Severo and Xavier would share the pj's over the course of the day. Should the words 'pink pajamas' be called then the two guilty boys would have thirty seconds to swap. With this matter now dealt with, bags (if they could be found) were packed, rooms checked and the group was on its way to south-west London to play Old Wimbledonians.
A welcome addition to the squad materialised at the host club in the shape of London resident and former St. Julian's student and rugby player Sebastião Sarmento, who was as keen as mustard play with his old team mates. If the team could win their second encounter they would be the first touring team to win both their weekend games. This was enough to spurn the sub-16s on to another comfortable victory, this time keeping a clean sheet in their 28 to 0 victory. Whilst there were several stand-out performances, captain Tomás Silva led from the front and secured the man-of-the-match performance.

Tired and weary the team refuelled with a hearty pasta meal before heading for Gatwick and their flight back to Lisbon. There was still time for a couple more exchanges of the pyjamas and a final funky chicken in the arrivals hall, where the team said their goodbyes and headed home. The trip seemed to pass in a flash, but I am sure the boys will have fond memories of their successful tour to England's capital.