JAGUARs v Belas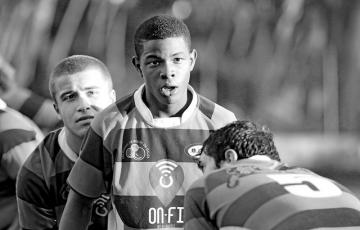 Several JAGUARs make their debut in impressive performance against Belas.
Click here to view Michael Hultén's images from the game.
Match report by Simon Mount
A JAGUARs XV played a friendly against at St. Julian's on Saturday afternoon, and it proved to be a very entertaining display of open running Rugby. Set piece possession was secured and phase play well orchestrated so that gaps in an inexperienced Belas appeared on a regular basis, with slick passing from the three quarters ensuring that the bulk of the tries were real team efforts but finished off in style out wide.
Duarte Bacelar ran the show imaginatively from 10, receiving good service throughout from Diogo Mostaccero and, returning at half time to a warm welcome following a long spell on the side-lines, Salvador Mendes. The forward pack all made good yardage, with Ruben Fernandes and Henrique Peralta proiminent, and produced the front foot ball that was easily exploited against a spirited, but at times disorganised Belas defence.
Rafa Silva and Georgi Semerdzhiev were the main beneficiaries and repeatedly cut through on good running lines, several of which took them all the way over the try line.
The JAGUARs in defence were equally impressive, snuffing out the Belas attacks very efficiently, with good line speed and solid first up tackling.
Congratulations to those JAGUARs who played their first ever game of Rugby: Daniel Lima; Guilherme Gomes; Rúben Ferrerira and Bernardo assunção.
Wishes for a speedy recovery to Rúben Fernandes, whose excellent afternoon's work sadly ended with a painfully sprained wrist.