Sub-8/10 at Galiza convívio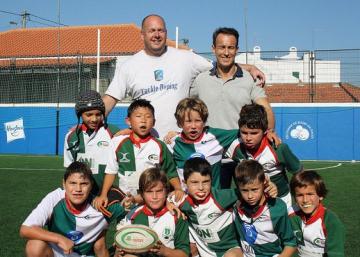 See Danilo Ballotta's images and read reports from the games here.
Click here Danilo Ballotta's images from the games here.
Sub-10 Convívio Report by Lorne King
We had a wonderful morning of rugby in the sun at Galiza on Saturday. The rugby from St Julian's sub 8's and 10's reflected the weather very bright and attractive. Both sides managed to win all of their games 8 victories from 8 matches.
The sub 10's started off with a 4-2 win over Direto and then followed that with a 4-0 victory against the hosts Galiza. We then reversed the fivtures and played Galiza and were leading comfortably at 5-0. Galiza then unleashed their Usain Bolt clone and before you blinked he had scored 4 tries. We managed to hold on to a 6-4 win.
We kept our best game till the end. After a tough start the game was quite even only 1-0. After five minutes we exploded into life scoring 5 tries and winning the game 6-0. The stand out player of the day was Guilerme Esteves who was constantly putting the opposition under pressure. There was also some big tackles by Terence Bos-Ramdin that saved certain tries. Well done to all the boys, and lets keep working hard at practice.
Sub-10 Convívio Report by Tiago Santos
...O dia estava Solarengo no sabado na galiza, e os rapazes dos sub 8 estavam motivados e cheios de vontade de entrar em campo. Com os treinos de defesa a surtirem efeito nos jogos ja que o st julians sub 8 so sofreu um ensaio em todo o torneio. A equipa aproveitou da melhor forma os movimentos individuais muito acima da media por parte de alguns dos nossos jogadores e ja alguns movimentos coletivos com passes bem feitos e recuperaçoes de bola que deram origem a ensaio.