Sub-16 v São Miguel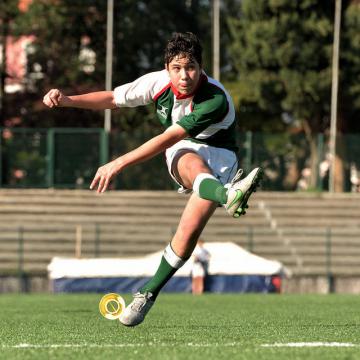 Sub-16s squander 12 - 0 half time lead to miss out on spot in A league.
Click here to view Peter fay's images from the game.
Match Report by Pedro Gonçalves
The Sub 16s had their most important game of the season yesterday, away against São Miguel. This was a sort of final since the winner of this game would qualify for the A league this season, while the losing team would be relegated to play B league.
São Miguel started the game well, with more territorial advantage and more possession in the first 15 minutes. Our defense was being tested but our boys like to defend, which we did fantastically bearing in mind that we didn't allow a single line break in that opening period of the game. Then, the game suddenly shifted. We were able to get out of our red zone through some great defensive team effort and through a very good defensive kicking game from António Miranda and Alec Goold.
After showing great discipline and composure in defense, we were finally able to play in São Miguel's own half and this was the period of time when we played our best attacking rugby. The first try was a real team try: line-out and a good driving maul by the forwards, then another phase with 3 forwards, providing quick ball for the backs and allowing our back line to show their pace and skills with some very good interplay and Aleksa Veljkovic finishing this simple but effective attacking sequence with a try on the opposite side of the pitch. After our first try and before half time we had at least 3 golden opportunities to score, but we missed a simple 2 v 1 at the wing and committed two knock-ons a couple of meters away from São Miguel's try line. However, after missing one of these opportunities, São Miguel had a scrum 5 meters away from their try line, and our forward pack pushed their pack really hard and this resulted in their scrum half being under a lot of pressure to pass the ball. Alec Goold chased their fly half and this pressure led to a knock-on inside their in goal area, which Alec used to score our 2nd try of the game, with the score of 0-12 at half time.
The 2nd half didn't start well again for us and in the first few minutes we allowed São Miguel to score their opening try, leaving the score in 5-12. Our boys reacted well to this and were putting a lot of pressure on the opposition, leading to some fantastic turnovers that should have resulted in at least 1 or 2 tries for us, which unfortunately didn't materialise. This defensive pressure was working really well, were it not for the fact that the referee blew his whistle against us at least some 20 times in the last 20 minutes of the game - for no apparent reason, since we were playing hard, but fair and - mostly - according to the laws of the game. São Miguel used this opportunity presented to them by the referee to install the game in our own half and to put pressure on us and this allowed them to score a good try out wide, leaving the score with 10-12.
With São Miguel getting closer - but mostly because of our boys feeling choked and powerless to get back into the game because of the referee's constant interventions in favour of the home side - high levels of anxiety, frustration and even some anger were evident amongst the players and this started working against us, causing a lot of individual mistakes that São Miguel took advantage of to score another try and put the the score at 17-12, with 5 minutes to go. For the first time behind in the game, we were struggling to keep our composure that could allow us to score a try that, if converted, would mean a win. However, a few of our own line-outs lost inside the opposition 22 in such a critical part of the game and a couple of knock-ons after some good attacking sequences hurt us badly.
This loss was obviously a huge set-back for our goals for this season, but I'm absolutely sure that we will overcome this by setting ourselves new targets. We now want to win the B league unbeaten, the best attack and the best defence! We also have the Taça de Portugal to play... and to win! We also have our tour to the UK! And most of all, the boys still have the opportunity to do one of the things that they most love in life: playing Rugby!