Sub-16 v Sporting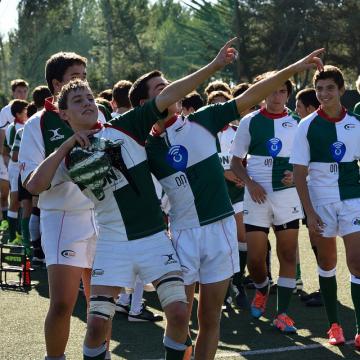 See Peter Fay's photo album and read match report here.
Click here to view Peter Fay's photo album from the game v Sporting.
Match report by Lorne King:
St. Julian's sub-16 played a crucial game against Sporting on Saturday. The winner of this game would go through to a play off game against São Miguel next weekend.
The game went well, and we came away with a 71-0 victory. We were very clinical right from the beginning and scored three tries in the first 10 minutes with Big Henri Maes scoring two of them. There was some impressive inter-play between backs and forwards in the first half, as we put 50 points on the board before half time.
The second half was not quite as clinical, as we tried some new combinations and gave a debut to Francisco Almeida. We only managed to score 21 points. The forwards tended to over-elaborate and take it in once too often. We did not release our backline as much as we did in the fist half. Well done to José Maria Novais who score 4 tries - one a bullocking run reminiscent of Julian Savea at the World cup as four players got bumped off.
Nevertheless a very good performance from the boys, but a more challenging game awaits next week. Looking forward to it.