TOURS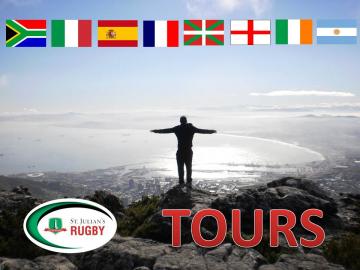 Check here for information on Tours, Tour Fundraising and previous Tour Reports.
.
.
.
.
.
.
.
.
Since we started touring overseas with our teams in the 2010-11 season, St. Julian's Rugby Club players have travelled to England, Ireland, Italy, France, Spain, South Africa and Argentina.
Touring with all age-groups has proved to be a fantastic experience and regular Rugby Tours have become a part of the St. Julian's Rugby Club culture.
In the 2016/17 season the sub-14s travel to Rome on the penultimate weekend of the 6 Nations, where they will return to Frascati for a game against the club that hosted our first tour back in 2010, and visit the Stadio Olimpico to watch Italy v France. The sub-8/10/12s will be travelling to Seville to participate in a special Iberian tournament. The sub-16s travel to England play a couple of friendlies and watch Gloucester v Saracens at Kingsholm.
Some previous Tour Reports and Images/Videos can be accessed here:
Sub-14 Rome 6 Nations Tour 2016
Sub-10/12 Treviso Tour Report 2015
Sub-14 Rome 6 Nations Tour 2015
Sub-14 Rome 6 Nations Tour 2014
Sub-16 Rome 6 Nations Tour 2013
Sub-18 Players to Sharks Academy South Africa 2012
Sub-18 Players to New Zealand Academy 2011
Sub-8/10/12/14 Treviso Tour 2011